Geostat: 2.6% GDP Growth in H1'15
Monday, August 3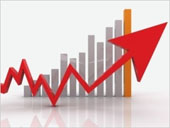 Georgia's real GDP grew 2.6% year-on-year in the first six months of 2015, according to preliminary data released by the state statistics office on July 30.
Economy grew 2.1% y/y in the second quarter, after 3.2% y/y growth in the first quarter of this year.
Parliament confirmed on July 17 amendments to the 2015 state budget cutting economic growth forecast from 5% to 2% and reducing targeted tax revenues by GEL 200 million to GEL 7.4 billion.
Real GDP was up 3.1% in June, compared to the same period of last year, after 0.9% and 2.1% y/y growth in April and May, respectively.
(Civil.ge)