President vetoes bill on NBG
By Messenger Staff
Monday, August 3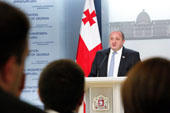 The President of Georgia, Giorgi Margvelashvili, has vetoed the bill initiated by the majority Georgian Dream coalition members that envisages depriving the National Bank of Georgia( NBG) of its supervisory functions to the financial institutions acting in the country.
The President stressed that the bill created a threat for the NBG that is a constitutional institution and to the state's macroeconomic field.
He also underscored that through the recommendations and meetings with the international organizations and the European Union (EU) representatives, the President's administration has already prepared "motivated remarks to the bill and a corresponding draft."
"The majority planned to put amendments in the bill, if it became a law, in September after discussing the amendments with the international organizations. We have already held the meetings and drafted a relevant bill. The bill is an optimal outcome," the President said.
Margvelashvili underscored the fact that the Presidential veto should not be viewed as a lever of stirring political confrontations.
"The veto is a lever for better cooperation among the state structures for adopting beneficial laws," the President said.
Responding to the step Prime Minister Irakli Garibashvili said that overriding the Presidential veto in the 150 seat parliament, where the majority holds 86 seats, will not be a problem at all, as overriding the veto requires 76 votes.
"We have democracy in Georgia. It was the President's right to use the veto. We will override it as we did in other cases," Gharibashvili said.
One of the authors of the draft, majority MP Tamaz Metchiauri said that "the President does what the opposition United National Movement ( UNM) wants to be done."
The UNM and the opposition Free Democrats state that they will not support overriding the veto, as they share the President's approach.
If parliament overrides the veto the Free Democrats intend to appeal the solution to the constitutional court.
Georgian leading NGOs approved the President's veto and reiterated that the bill posed risks for NBG independence.
The bill offered by the Georgian Dream coalition members stated that a separate Financial Supervisory Agency would be established and governed by a seven member Board. The NBG president and one more member of the central bank's Board will take two seats; five other seats will be occupied by candidates nominated by the Government and confirmed by Parliament. The head of the Agency will be nominated by Board members and confirmed by Parliament.