22 years passed since Georgian-Abkhazian conflict
By Messenger Staff
Tuesday, September 29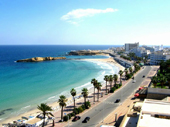 Twenty –two years passed on September 27 since the conflict among Georgia and its one of the de-facto regions of Abkhazia.
Commenting on the day Georgian officials spoke about the necessity of peaceful reintegration of the territory and point to the regress Abkhazia has experienced since it has separated from its motherland.
"Georgians and Abkhazians were split by the Abkhazian war, but we will peacefully return to each other," Georgia's Prime Minister Irakli Garibashvili stated while commenting the date.
"The fall of Sokhumi- 27 September 1993 is one of the most tragic dates for Georgia. This day has become a symbol of great pain, destruction and irreparable loss for us. The fratricidal war claimed lives of thousands of Georgians and Abkhazians. This loss cannot be compensated for," Garibashvili added.
The PM stressed that thousands of people have been forcedly displaced from their land and promised that the current Georgian Government would do its utmost to ensure the brotherly attitude among Georgians and Abkhazians again.
The Abkhazian society could not achieve any success through the so-called victory, the State Minister for Reconciliation and Civic Equality Paata Zakareishvili stated.
He stressed that since 1993 Georgia has achieved much and is striving to the Euro-Atlantic space, while Abkhazia still remains destructed.
"We can see how bridges, tunnels and cities are being built in Georgia. Meanwhile Abkhazia has been destroyed. Its powerful friend (Russia) does not give even one ruble to Abkhazia", he said.
It is obvious for everyone that one of the main obstacle for the reintegration of the Georgian occupied regions is the Russian Federation.
The regions are being used as levers for the Federation to exercise pressure on Georgia.
It should be stressed that the number of the local population on the de-facto regions of Abkhazia and South Ossetia is decreasing from year to year, while the number of the Russian population there is growing.
Maybe locals guess that the current situation is not what they had expected from "freedom". However, they are dependent on Russians now and are afraid of them.
Peace has no alternative and only through peace can the country achieve progress. We need peace for Georgia to become an European state and attractive for the people living in the occupied regions, but we also need a sensible government that will be skilful and reasonable in negotiations and in foreign relations.
The President of Georgia Giorgi Margvelahsvili has just stated that speaking with Russia was important. However, it was not still time for launching the talks with the Federation.
If we want to settle our major problems in peace of course we will have to speak with the occupant country, it will not be a betrayal of the motherland as some opposition members claim.
However, we need to be a stronger country for that time and well-prepared for such talks.