Grape harvest begins in Racha-Lechkumi as picking ends in Kakheti
Tuesday, October 6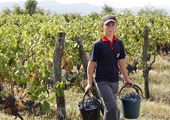 Farmers in Georgia's Racha-Lechkumi region are immersing themselves in the grape picking bustle, as the harvest comes to an end in the leading wine-producing region of Kakheti.
Georgia's Agriculture Minister, Otar Danelia, said all the organisational issues had been solved and the region was now ready for a busy vintage.
A special coordination centre for grape picking had opened in Ambrolauri, in Racha-Lechkhumi.
Local governor Papuna Margvelidze said the region expected to enjoy about 100 tonnes of high quality grapes this season.
In Kakheti, the grape picking period is coming to an end; as of today, about 103,300 tonnes of grapes had been processed.
The National Wine Agency reported farmers had benefited more than 70 million GEL by selling grapes so far this year.
Of the different grape varieties in Georgia, the Rkatsiteli variety was the most harvested.
Already this season about 52,000 tonnes of Rkatsiteli grapes have been picked, followed by Saperavi grapes (about 38,200 tonnes) then Kakhuri Mtsvane grapes (2,400 tonnes).
The remaining 11,000 tonnes of harvested grapes was mix of other varieties.
Georgia's Agriculture Ministry announced most grapes had been processed in Gurjaani (about 34,500 tonnes), in Telavi (about 23,200 tonnes) and in Kvareli (about 19,000 tonnes).
Further afield, about 7,600 tonnes of grape had been processed in Signagi, about 7,400 tonnes in Lagodekhi, about 6,000 tonnes in Sagarejo, about 3,300 tonnes in Akhmeta and about 2,200 tonnes in Dedoplistskaro.
The grape picking process had also almost finished in Dedoplistskaro and Signagi.
So far, about 13,000 farmers had passed their grapes onto wine companies, the Agriculture Ministry announced.
(Agenda.ge)