Russian Gazprom returns to Georgia?
Monday, October 12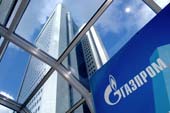 Georgia's energy field officials, namely the Energy Minister Kakhi Kaladze and his deputies, have just stated that Georgia is considering cooperation with Russia's state controlled energy giant Gazprom, in order for the company to provide Georgia with gas supplies.
Currently, Georgia receives most of its gas supplies from Azerbaijan; it also receives, as a transit fee, 10% of gas shipped by Russia to Armenia through a pipeline running through Georgia.
The energy officials emphasize that the Georgian side will accept the deal if it is "commercially viable" for Georgia.
They also stress that "political and economic issues should not be mixed" while discussing the issue about receiving gas from a country which occupies 20% of Georgian territory and violates the rights of Georgian citizens on a daily basis.
The majority of both the parliamentary and non-parliamentary opposition groups are unanimous taking the step means "betraying" state interests and making the country dependent on Russia's energy.
The opposition party, the United National Movement (UNM), has demanded a meeting of the country's security council to address the issue.
It is hard not to agree with those who are stating that relying on Russia's major energy company to supply Georgia with gas is in conflict with the state's interests.
It is also surprising that Georgian officials state that political and economic issues should not be mixed when the case concerns the Russian Federation.
Russia has never separated politics from economics, openly using the latter as a lever to exercise pressure on his opponents.
Two years prior to the Russian-Georgian War in August 2008, Gazprom suspended its supply of gas to Georgia which left many citizens without heating in winter.
Every day, Georgian officials state that Russia remains an enemy, which begs the question as to why Georgia should rely on a hostile country for such a vital supply.
If the government takes such an unpopular step, it will give Russia one more lever to influence Georgia; such a lever will never be beneficial for Georgian interests.