Repair works completed in landslide-hit Dariali Gorge
Monday, October 26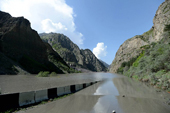 A protective dam has been built in the Tergi River in Dariali Gorge in northern Georgia to prevent the area from future natural disasters following the major landslide that killed at least three people last year.
The riverbed direction was also rerouted, culverts were installed and a 150m section of unstable land was strengthened as part of the repair and prevention works.
The State Construction Company (SCC) of Georgia's Regional Development and Infrastructure Ministry was responsible for completing the repair works in the Dariali Gorge, located near the Russian border.
Part of the recovery works included building a 700m protection dam on the Tergi River. The river was also rerouted 90m to better protect the nearby Dariali Hydro Power Plant (HPP) from future disasters. The repair works also meant the nearby territory and Dariali Monastery will be better protected from future flooding of the Tergi River.
The state spent one million GEL on the repair works.
The Deputy Minister of the Regional Development and Infrastructure Ministry of Georgia Eka, Sepashvili, and SCC director Joseph Ozashvili visited the site today.
Works to repair the Dariali Gorge, the Tergi riverbed and surrounding area and infrastructure began shortly after the area was hit by a landslide last year.
In May 2014, a section of the mountainside collapsed and caused a landslide near the village of Gveleti in the Dariali Gorge.
Locals said this swarm of debris caused a natural dam in the Tergi River, 20km away from the HPP, which was undergoing construction at the time. The debris built up and caused the river to burst, damaging nearby infrastructure and endangering the lives of local residents and HPP workers. It is believed that at least three people died in the disaster.
The mudslide caused major damage to the North-South gas pipeline that transports natural gas from Russia to Armenia thorough Georgia. Shortly after the disaster, gas was temporarily stopped from travelling along this route.
At the time, further landslides hit the area and blocked the Georgian Military Road, a major route through the Caucasus from Georgia to Russia.
(Agenda.ge)