Georgian wine on show at EnoExpo fair in Poland
Monday, November 9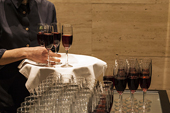 Eleven Georgian wine companies have participated in the international wine fair EnoExpo 2015 held in Poland this week.
The 13th international wine fair showed wines from Telavi Wine Cellar, Teliani Valley, Vaziani, Khareba Winery, Askaneli Brothers, Corporation Kindzmarauli, Kakhuri, Besini, Twins Wine Cellar, Chateau Telavi and Tibaneli.
The Georgian National Wine Agency supported all 11 companies as they participated in the fair to raise awareness of Georgian wine in the international market.
During the November 4-6 fair, representatives from the Georgian wine companies met with Polish wine importers to establish connections.
Visitors to the fair were able to sample wines from countries that are famous for winemaking: Austria, Spain, France, Hungary and Italy but also from more untypical places like Armenia, Bulgaria, Croatia, Portugal, Romania, Slovenia, Ukraine and, of course, Georgia.
Within the fair a wine competition was also held where a Krakhuna 2013 wine from Georgia's Amiran Vepkhvadze wine company won the top prize.
Poland was an important export market for Georgian wine, said the National Wine Agency.
The latest figures showed Georgia exported 1.26 million bottles of wine to Poland during the first 10 months of 2015. This was a two percent increase from the same period of last year.
(Agenda.ge)