Produce in Georgia: Three more business ideas financed by state program
By Messenger Staff
Tuesday, December 1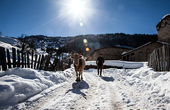 Three new enterprise projects will be established within the 'Produce in Georgia' state program, which supports the development of industry in Georgia.
The Georgian Government approved the three project ideas at today's Government meeting.
The new businesses – a meat and dairy cattle farm, a drinking water factory and a factory for producing matches – would receive funds from the 'Produce in Georgia' scheme as they all would feature in the local production market and contribute to the growing economy.
As of today, the program has financed the cost of establishing 139 new enterprises and renovating more than 600 businesses. Since the scheme launched in May 2014 the state has invested 350 million GEL in interesting projects.
Mineral and fresh water factory in Kazbegi
A new water factory will be built in the Pansheti village in Georgia's Kazbegi municipality.
The Healthy Water+ enterprise will produce mineral and fresh water, and be capable of processing 10 million litres of water per year.
The company has already purchased a plot of land spanning 54,838m2 from the state at a symbol price of 1GEL.
Healthy Water+ will invest more than 400,000 GEL to build the new factory.
Match factory in Khobi municipality
About 50 people will be employed in a new factory that makes matches in Georgia's Khobi municipality. The factory, operated by local company Marc, was due to start operating in two years.
The factory will be built on 18,136m2 of land that was purchased off the state for the symbolic price of 1 GEL.
"You know we import matches from abroad. Now we are building a match factory that will produce 100 million boxes of matches annually. About 200,000 GEL will be invested in this project," said Georgia's Economy Minister Dimitri Kumsishvili.
Cattle farm in Tianeti municipality
A small but high-tech cattle farm will be established in the village of Sakdrioni in Georgia's Tianeti municipality.
Zaridze Ltd also purchased a piece of land measuring 498m2 of land off the state for 1 GEL.
The new cattle farm will produce at least 30 tonnes of milk and five tonnes of cattle meat per year.
The farm is expected to open in two years.
(Agenda.ge)