Georgia increases excise tax on tobacco & alcohol
Monday, December 14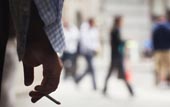 Georgia is taking measures to enforce stricter control on tobacco and alcoholic beverages in a bid to get closer to the European Union's (EU) high standards.
For this purpose, Georgia will increase excise tax on tobacco and alcoholic beverages from January 2016.
The Parliament of Georgia has approved a bill to increase excise tax on cigarettes and alcohol with 73 votes.
Tax will increase on:
• Filtered cigarettes - by 0.20 GEL (per 20 units); and
• Non-filtered cigarettes – by 0.05 GEL (per 20 units).
The proportional interest rate will increase by five to 10 percent on filtered and non-filtered cigarettes, according to the bill.
Iva Khasia of Japan Tobacco International - which imports Winston, Camel, Mild Seven, Benson & Hedges and Silk Cut cigarettes to Georgia - said the tax increase would have a flow-on effect and the price of cigarettes in Georgia would also increase.
"There are two types of excise taxes – the specific component (increase of 0.20 GEL) and ad valorem tax [Latin for according to value] (increase of 5-10 percent). So, in total the excise tax will increase by 0.45 GEL, plus Value Added Tax (VAT) – all these will be reflected on the final price of the cigarette. However, I cannot say exactly when and how much the cigarette price will be increased in Georgia," Khasia said.
The cigarette importer warned the new taxes would encourage smuggling of cigarettes into Georgia.
Khasia said there was a risk of increased smuggling attempts, similar to what happened in 2005 when excise tax was 0.90 GEL and when 75 percent of the tobacco market was illegal. At that time, huge volumes of cigarettes were imported from neighbouring Armenia.
Meanwhile, in terms of alcohol, excise tax was planned to be increased on whiskey and vodka (Rome and Gene varieties) from 10 to 15 GEL and up to 10 GEL on other alcoholic beverages.
The Government predicted the increased excise tax would bring in an additional 90 million GEL revenue to the state budget.
(Agenda.ge)