Georgia's Defence Minister and NATO
By Messenger Staff
Monday, December 14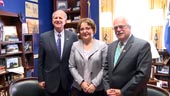 Several days ago, Georgia's Minister of Defence, Tinatin Khidasheli, met with the United States (US) Assistant Secretary of State for European and Eurasian Affairs, Victoria Nuland, in Washington.
The meeting - which concluded the Georgian official's four-day trip to the US on December 11 - concerned Georgian-American bilateral relations, Georgian-NATO cooperation, prospects for closer cooperation, security issues and future joint projects in various directions.
"We are waiting to launch a range of new initiatives from the next year. We have spoken about security issues and possible ways as to how Georgia could be safer from security threats.
"Of course, we are seeking easy, fast and effective ways for Georgia to be more secure. In this context, we touched on the current cooperative formats between Georgia and the North Atlantic Treaty Organisation (NATO)," Khidasheli said.
The Georgian top official stressed the progress Georgia has made in its efforts to integrate with NATO and revealed her "positive expectations" for the NATO Warsaw Summit next year.
"We are very optimistic to the Summit after the recent NATO Ministerial. Our progress to the Alliance is obvious; the NATO open door policy is also obvious…thus, we want to return from the Warsaw Summit more empowered as an independent country," Khidasheli said.
During her visit, the Georgian Minister also met representatives of leading US non-governmental organisations and research centres, delivered a speech at the Centre for Strategic and International Studies (CSIS) in Washington and held meetings with representatives of the National Coalition Supporting Eurasian Jewry. She also met with the former US Secretary of State Madeleine Albright, the president of the National Democratic Institute Kenneth Wollack, the head of the US Institute of Peace Stephen Hadley and the Institute's president Nancy Lindborg, as well as with various American Senators and Congressmen.
The major aim of the visit was to raise international awareness about the successful reforms carried out in Georgia, as well as the country's Euro-Atlantic ambitions and Russia's continued occupation of Georgian soil.
It should be stressed that since being appointed as Georgia's first female Defence Minister in May, 2015 Khidasheli has visited a range of states and has made very clear and principled statements - that Georgia deserves either a NATO Membership Action Plan (MAP) or direct membership.
Khidasheli was also very direct in her statements to Russia and has always underlined that Russia is a serious threat to Georgia and that only the enlargement of the Alliance could stop the Russian Federation's creeping occupation of Georgia soil.
It is very likely that the Minister's activeness and frequent meetings with foreign parties and will provide beneficial outcomes for Georgia.