Central Bank Sells USD 20m, Ninth Intervention in 2015
Monday, December 28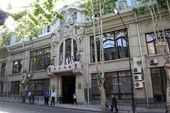 The National Bank of Georgia (NBG) sold USD 20 million at a foreign currency auction on December 24 to support the national currency, the lari (GEL).
The GEL strengthened slightly to 2.4023 per U.S. dollar from 2.4107 a day earlier.
It was the central bank's ninth intervention this year with total sales reaching USD 286.96 million.
Georgia's foreign exchange reserves stood at USD 2.479 billion as of end-November, up from USD 2.449 billion a month earlier, and down from USD 2.699 billion in the beginning of this year.
An IMF mission said on December 8 that it "strongly supports the NBG's policy to allow the Lari to float and to limit foreign exchange interventions only to dampen excess exchange rate volatility."
The lari has been hovering mostly around 2.39-2.4 per U.S. dollar over the past couples of months.
The GEL has lost 27.6% of its value against the U.S. dollar since the beginning of this year and 37% since November 2014, when the Georgian currency started to depreciate due to the worldwide strengthening of the U.S. dollar and the decline of external earnings in the form of reduced exports and remittances amid a slowdown in Georgia's main trading partners.
The depreciation of the lari has increased the debt burden of borrowers with loans in U.S. dollars. About 64% of total loans in Georgia are denominated in foreign currency, mostly in U.S. dollars.
(Civil.ge)