New pharmaceutical factory to open in Georgia
Monday, December 28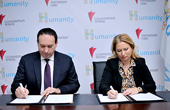 Georgia is building a new European standard pharmaceutical factory in capital Tbilisi.
The project will be implemented by Georgia's state-owned shareholding company, the Partnership Fund (PF) and an Austrian company, Humanity Holding, with active participation by the Ministry of Labour, Health and Social Affairs of Georgia.
The total cost of the project was $130 million USD.
In order to implement the project in Georgia, Humanity Holding established a daughter company named Humanity Georgia which will run the project in the country.
The PF, Humanity Holding and Humanity Georgia signed an appropriate agreement today.
The factory will be equipped with modern technologies and state-of-the-art laboratory for quality assurance. The factory will also feature a warehouse and other infrastructure for producing at least 800 pharmaceutical products.
The products will be sold locally as well as in foreign markets.
Meanwhile, Humanity Georgia will also import some pharmaceutical products in Georgia and sell them "at a reasonable price".
In total, 300 people will be employed at the factory, including Georgian and foreign professionals.
The factory will be located in the Orkhevi territory, Tbilisi.
(Agenda.ge)