Four-star hotel will be opened in Abastumani
Tuesday, January 26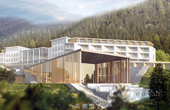 A four-star hotel will be opened in Abastumani, a small town and climatic spa in Georgia's Samtskhe-Javakheti region, famous for its hot sulfur baths. It will be the first four-star hotel in the town.
A state-owned shareholding company - the Partnership Fund (PF) - has already started negotiations with Georgia-based real estate company Redix Group to design a hotel project for Abastumani.
The project envisaged the investment of $26 million USD to build a "high-class" hotel in Abastumani. The hotel will feature 160 rooms, restaurants, conference hall, meeting room, swimming pool, club and spa.
The Director of the Investment Department at PF,GiorgiCherkezishvili, said that as of today, only several small guesthouses are operating in Abastumani.
"There is demand for a high-class hotel in Abastumani, and the PF's strategy envisages the development of infrastructure in the region to support private businesses there. This project would increase the awareness of the region and attract more tourists in Abastumani," said Cherkezishvili.
Construction work is due to start in spring 2016 and is scheduled for completion in 2018.
(Agenda.ge)