BTK railway to connect Asia and Europe
Tuesday, January 26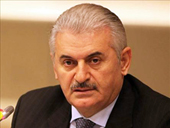 The Baku-Tbilisi-Kars (BTK) railway will connect Asia and Europe, BinaliYildirim, the Turkish Minister of Transport, Shipping and Communications, said.
"The railway will be constructed by late 2016," he said. "This project is important not only for Azerbaijan, Georgia and Turkey, but also for the world."
Yildirim said that BTK will also strengthen the political and economic relations between the countries implementing the project.
A new 105-kilometer branch of the railroad is planned to be constructed as part of the Baku-Tbilisi-Kars project.
The peak capacity of the corridor will be 17 million tons of cargo per year. At the initial stage, this figure will be equal to one million passengers and 6.5 million tons of cargo.
(Trend.az)