Gas leaks cause fatalities every winter
By Messenger Staff
Tuesday, January 26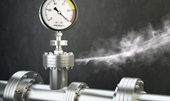 Two men have died due to a gas leak in Tbilisi. The incident occurred on Kutaisi Street a day before their deaths.
As the Ministry of Internal Affairs has reported, an investigation is in progress according to Article #240 of the Criminal Code, which refers to the violation of safety rules in terms of electricity, gas or oil heating systems.
A week ago, an incident of the same type took place when a young couple was found dead in a rented flat in Tbilisi.
However, Georgia is also afflicted by the same problem during the summer months, when dozens die due to gas leaks.
In many cases, people are simply not cautious enough, and in order to save money they use methods of heat generation that are damaging to their health.
Of course, it is hard for the Government to check every family or buy relevant heating facilities for all of them.
However, there are also instances when a family hires an individual to install a heating system who lacks the knowledge and experience to install the device correctly; this has also led to fatalities.
It would be better if heating companies offered installation services themselves and provided qualified staff.
As the problem shows no sign of abating, the Government should somehow address this.
A media campaign to inform the population about heating-related issues and warn them concerning possible tragedies would raise awareness amongst both the public and the Government.
There should also be a special group active each winter which would visit homes and monitor the situation, learning about how families keep warm during cold seasons.
The Government should research the statistics on how many families use dangerous methods for heating and help those who have no income to buy or install appropriate heating facilities.