Iran can supply gas to Georgia in swap scheme
Monday, February 22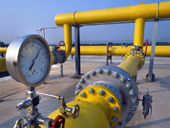 The supply of Iranian gas to Georgia - on which discussions are currently being conducted - is hardly possible, said Gela Vasadze, a Georgian political analyst and chief editor of the Black Sea Press agency.
"In fact, there will be no supply of any Iranian gas. Formally and financially [if the agreement on such supply is reached] it will be Iranian gas, but it will actually be Russian," said Vasadze.
The expert stated that Russia supplies gas to Armenia through Georgia via the existent infrastructure, which the Georgian authorities formerly refused to sell to Gazprom.
"Armenia's gas transport system, through which Iranian gas theoretically may be transported through Armenia to Georgia, is owned by Gazprom," added Vasadze.
"It is illogical to physically supply Iranian gas," said the expert, adding that "Why should Gazprom have to supply gas through Georgian territory to Armenia, and gas from Iran through Armenia to Georgia?"
Vasadze said that if such a scheme is applied, Iranian gas will be supplied to Armenia, while the Russian gas which was earlier supplied to Armenia will remain in Georgia.
Regarding the transportation of Iranian gas via Azerbaijan, the expert claimed that this also makes no sense, as Azerbaijan itself can supply Georgia's gas. In addition, this would involve transporting the gas over a greater distance than by simply importing the gas from Azerbaijan, and consequently transportation costs will be higher, according to Vasadze.
He said that the best option for Georgia is to completely meet the country's needs by buying supplies from Azerbaijan.
"Azerbaijan is our strategic partner, which helped us a lot at the time when Georgia was in an energy blockade," the expert said. "The current Georgian authorities talk about diversification, but they cannot state a single argument in favor of purchasing Russian or Iranian gas and refusing from supplies from Azerbaijan."
Vasadze said that the idea of using Iranian gas supplies is a workaround to avoid offending Russia, which wants to participate in Georgia's energy supply and at the same time avoid substantial resistance in the Georgian society, which is against Gazprom's reintroduction into the Georgian energy market.
Currently, Azerbaijan is the main supplier of gas to Georgia.
Russian gas is supplied to Georgia only in the form of payment for its transit to Armenia. The country obtains 10 percent of the total supply volume.
Earlier, Alireza Kamali, the Director General of the National Iranian Gas Export Company (NIGEC), said that Tehran and Tbilisi are negotiating for the supply of 200 mcm of Iranian gas to Georgia. Later, Georgian Deputy Prime Minister and Minister of Energy Kakha Kaladze said that Iran will be able to supply its gas to Georgia via Azerbaijan or Armenia.
(Trend.az)