PM: Itís our duty to transport and bury our dead compatriots in Georgia
By Messenger Staff
Monday, February 22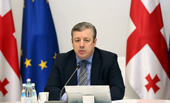 The Prime Minister of Georgia Giorgi Kvirikashvili says it is a matter of honour for the Government to cover the transportation expenses of those Georgians who have died abroad.
Kvirikashvili thanked the Minister of Georgia for Diaspora issues Gela Dumbadze for proposing the initiative, and tasked the Minister of Foreign Affairs of Georgia to settle transportation procedures in a timely manner.
The PM said there were a number of cases when the transportation of bodies had lingered on for months, as the families of the deceased lacked the financial recourse to pay for the repatriation themselves.
ďThe state is obliged to care about its citizens and such incidents must not take place again,Ē Kvirikashvili said.
The PM added there were situations wherein the families of a person who died abroad addressed the Government for help in transporting the body, but the process was slow and beset with bureaucracy.
Now, based on the changes, the Foreign Ministry would solve such issues timely, without additional unnecessary procedures.
This has been a problem for many years, and the Government should have taken steps to settle the issue long ago.
Hundreds of thousands of Georgians are living abroad in order to feed their families here in Georgia.
Many of them hoped that after some time, living conditions in Georgia would improve and they would return to their homeland, but many of them die abroad and their bodies remain there for months, as their families here in Georgia do not have enough to cover the high expenses of transportation.
It is good that the Government has finally decided to take responsibility in this regard.