Tbilisi Says Imports Georgia imports Russian Electricity for Abkhazia at 'Preferential Price'
Monday, February 29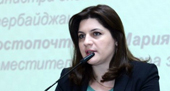 Georgia is importing electricity from Russia to supply it to the breakaway territory of Abkhazia at a "very preferential price", Georgia's Deputy Energy Minister, Mariam Valishvili, said.
She said it is a "short-term solution", expected to run until April, which was required to prevent a massive power outage which the breakaway region was facing because of a drop in the Enguri dam's water level.
Both the Georgian and Abkhaz sides first announced the import of electricity from Russia last week. The specifics of the arrangement were not made public at the time and details still remain sketchy.
"I cannot specify the exact amount, but I can say that we are receiving [electricity] at a very preferential price," the Georgian Deputy Energy Minister told journalists on February 25.
"We took this step and negotiated an agreement with Russia in order to supply additional amount of electricity to Abkhazia till April 1. The agreement has been made, and I think that everyone is satisfied with this result," she added.
Abkhazia fully relies on electricity generated by the Enguri hydropower plant, whose 271.5-meter-tall concrete arch dam is located on the Georgian side of the administrative border, though its five generators are over the Abkhaz border in the Gali district.
The drop in the Enguri dam's water level, caused by shortages of rain and frozen conditions that reduced flows from the Enguri River amid an increase in power consumption in the breakaway region, led to several hours of power cuts daily in Abkhazia from late January. Officials both in Tbilisi and Sokhumi were predicting a complete blackout in Abkhazia from late February in case of failure to secure additional supplies of electricity from sources other than Enguri HPP; restrictions on power supplies to households in the breakaway region were removed in mid-February after the import of electricity from Russia.
(Civil.ge)