Creating visa-free regime between breakaway regions illegal, says Azerbaijan
By Messenger Staff
Monday, February 29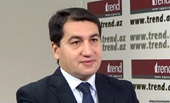 Creating a visa-free regime between breakaway regions is illegal, Hikmet Hajiyev, a spokesperson for Azerbaijani Foreign Ministry told reporters Feb. 24.
He was commenting on the information about the possibility of creation of a visa-free regime between the breakaway regions of Azerbaijan and Georgia – Nagorno-Karabakh and Abkhazia.
"Azerbaijan supports Georgia's territorial integrity and sovereignty, and this position has been once again reflected in Tbilisi's declaration adopted during the fifth trilateral meeting of the Azerbaijani, Georgian and Turkish foreign ministers," said Hajiyev.
He added that there is an unrecognized regime on the Azerbaijani territories occupied by Armenia.
Hajiyev said that visa matters on Azerbaijan's territory are regulated under the Azerbaijani Migration Code and any activity beyond this is illegal.
"There is a warning about trips to the occupied regions on the website of Azerbaijan's Foreign Ministry," he said. "The Foreign Ministry calls on Azerbaijani citizens not to visit the mentioned territories, which are not controlled by Georgia's central government, without the permission of the relevant structures."
A brief war between Georgia and Russia broke out in South Ossetia on August 8 2008, which resulted in Russian troops occupying Tskhinvali and having soundly defeated the Georgian military.
Russia recognized the independence of South Ossetia and Abkhazia in late August. In response, Tbilisi cut diplomatic ties with Moscow and claimed that the two unrecognized republics of Abkhazia and South Ossetia were now occupied territories.
The conflict between Armenia and Azerbaijan began in 1988 when Armenia made territorial claims against Azerbaijan. As a result of the ensuing war, in 1992 Armenian armed forces occupied 20 percent of Azerbaijan, including the Nagorno-Karabakh region and seven surrounding districts.
The two countries signed a ceasefire agreement in 1994. The co-chairs of the OSCE Minsk Group - Russia, France and the US - are currently holding peace negotiations. Armenia has not yet implemented the UN Security Council's four resolutions on the withdrawal of its armed forces from the Nagorno-Karabakh and the surrounding districts.
(Trend.az)