President says 'our fight for freedom continues' as Georgia marks Soviet Occupation Day
By Messenger Staff
Monday, February 29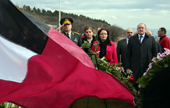 Georgia's President, Giorgi Margvelashvili, said on February 25 - the day marking the Soviet Occupation of Georgia - that the battle for Georgia's freedom is ongoing, and the country will definitely win the fight.
Georgia marked the 95th anniversary of the war in which hundreds of Georgians sacrificed their lives against the Communist invaders.
"Ninety-five years ago, our ancestors fought for Georgia's independence to prevent the country from falling under Soviet rule. After 70 years of hardship, our generation managed to win and create an independent state. Today our fight to achieve freedom from the independence is still in progress and together we will win this battle," the President said.
The Day of Soviet Occupation was first officially marked in Georgia by the former government on February 25, 2010.
Parliament unanimously passed a resolution instructing the government to organise various memorial events each year on February 25 to commemorate the thousands of victims of political repression of the Communist occupational regime.
Georgia won its independence, but its Soviet past - especially prevalent in the national mentality - still prevents successive governments from forming an economically and politically powerful country.
Twenty percent of Georgian territories are still occupied by Russia, and Moscow's creeping occupation continues.
To fully achieve freedom, Georgia needs its territories back and every citizen needs to feel responsible to their country. Furthermore, Georgia needs international support to resist very obvious security threats.
Russia, which is trying to expand its sphere of influence, is a chronic threat not only to Georgia, but for many other countries, as it believes that post-Soviet nations must be brought back under its control.