President Aliyev: Southern Gas Corridor to more expand co-operation between Azerbaijan, Georgia, Turkey
By Messenger Staff
Tuesday, March 1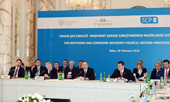 The second Southern Gas Corridor Advisory Council Meeting started in Baku on Feb. 29.
Azerbaijani President Ilham Aliyev attended the meeting and emphasised the significance of holding the event and added that it will focus on the work done in previous years as well as future tasks.
The President noted that high-level and successful coordination work had been carried out between the projectís participants following the previous yearís meeting.
President Aliyev recalled that the groundbreaking ceremony for TANAP project was held in 2015 and added that this project plays an important role in the implementation of the Southern Gas Corridor.
He noted that the implementation of the Southern Gas Corridor project will make it possible to expand cooperation between Azerbaijan, Georgia, Turkey and other countries.
Azerbaijanís president highlighted that energy security holds an important place in world politics and on the agenda of international organizations.
He noted that Azerbaijan remains committed to all its obligations and continues to develop the principles of a market economy.
Ilham Aliyev said that energy cooperation cannot be a political requirement and this issue should be free of any political format.
Azerbaijan actively cooperates with the projectís participants, and this cooperation will create opportunities to achieve success in other spheres of the economy as well, according to Ilham Aliyev.
The President added that energy security plays an important role in relations with the European Union.
(Trend.az)