President's advisor criticizes State Constitutional Commission
By Messenger Staff
Tuesday, March 1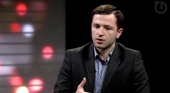 "It is very unfortunate that the State Constitutional Commission is carrying out its functions with zero results," stated Kakha Kozhoridze, a member of the commission and the President's advisor in Human Rights issues.
Kozhoridze stressed that the Constitutional Commission could not agree on any constitutional initiative which it had been tasked with since 2013.
According to him, there were a number of separate constitutional proposals on which a consensus could have been reached, but it never happened.
"I have a feeling that the Commission was not oriented towards results. Obviously none of the members of the Commission can avoid responsibility, but in this process the main responsibility lies with the ruling coalition, as it oversaw the entire process.
"I regret that the Commission is carrying out its functions with zero results. I have heard arguments about why the Commission was so ineffective, but none of those arguments are relevant," he said.
According to him, a considerable amount of money was spent on the function of the Commission. According to Kozhoridze, about 300, 000 GEL was spent on "nothing".
On December 27 2013, Parliament approved the setting up of a 58-member state commission, chaired by Parliament Speaker Davit Usupashvili, tasked with making amendments to the constitution.
The Commission includes a total of twenty-one lawmakers, of which thirteen are from the Georgian Dream parliamentary majority group, six from the United National Movement (UNM) parliamentary minority group and two independent MPs. The commission also includes officials from the judiciary and the executive government, as well as legal experts and representatives from eight NGOs.
The current Georgian constitution was hastily drafted under the previous state leadership and the functions of high-ranking state figures are not well specified, which frequently causes various controversies.
There is a need to put the changes into the constitution, and the amendments should be approved by both the opposition and the ruling government, otherwise the changes will not be approved.
It is important that all participants of the Commission work appropriately and discourage the misspending of budgetary funds.