Defence Ministry tightens policies on gambling and alcohol and introduces amended rules
By Messenger Staff
Monday, March 7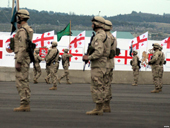 The Ministry of Defence of Georgia has introduced new, updated rules through which the members of Georgia's Armed Forces (GAF) will be immediately dismissed if found under the influence of alcohol or engaged in gambling.
No matter whether it will be a first time offence or not, if found under alcohol or engaged with gambling, he/she will be dismissed from the Army.
The new rules apply when soldiers are found under alcohol on a military base, at work, or in a military uniform out of work. The Ministry said they do not restrict GAF members from drinking in their leisure time when they are dressed in civilian clothes.
The Ministry also annulled administrative arrest for soldiers in case of violations, labeled it as a "useless" mechanism.
In addition, in case of violating the rules, all GAF members will be equally punished, ignoring their ranks and titles.
The Ministry rejected the outdated, Soviet-era forms of encouragement like hanging a soldier's photo on a special wall and other such outmoded behaviour..
The fact that the Ministry restricted rules for alcohol and gambling was due to recent suicide attempts amongst soldiers committed suicide as they could not cover their debts at gambling facilities.
The Ministry stressed that any improper activities of GAF representatives, including misbehavior while drunk, affected the Army image.
The changes still need to be approved by the Government.
The changes are welcomed, and the changes in terms of gambling should be introduced not only for soldiers.
The number of suicides, especially amongst young Georgian people, is increasing from year to year. Despite the Government's continued promises that children will be restricted from accessing online gambling sites, as they often fail to repay their debts; this often leads them to commit either crime or suicide.
The Government must find ways to somehow settle the issue.