Gov't agrees to simplify privatisation in Georgia
Monday, March 28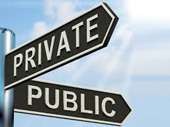 The Government of Georgia is addressing a problem facing dozens of investors who purchased state-owned assets but were unable to complete the privatisation process.
At a meeting last week, governmet lawmakers agreed to introduce a new rule to simplify procedures regarding the finalisation of privatising state-owned property for past and future investors.
"This will affect individuals who encountered a problem while privatising state-owned property," said Georgia's Prime Minister Giorgi Kvirikashvili at the meeting.
The Prime Minister explained the new rule will cover instances when a property was purchased prior to June 21, 2010 before the Law on State Property entered into force.
"In some cases 80 percent of the cost of the real estate or 50 percent of cost of agricultural land was paid, but the process could not be finalised due to [the investor] violating their payment obligations," said Kvirikashvili.
"However, the property will be legalised [in their names] if the the debt is paid in full," he said.
This was one of 32 issues approved by the Government today. The agenda of today's meeting also included an announcement that Germany would offer significant financial support to Georgia to implement major investment projects
Lawmakers also decided to continue connecting Georgia's regional villages with gas, where natural gas is currently not available.
Authorities agreed that 600 hundred families living in the Phoka and Gandza villages in Ninotsminda, in Samtskhe-Javakheti region, will soon be supplied with natural gas for the first time.
"These villages are often in extreme climate conditions and this will be profoundly important for the local population. Today we also discussed allocation of funding to implement this initiative," said the PM.
An Action Plan to develop the labour market in Georgia for 2016-2018 was also approved. If implemented successfully, Georgia's working population will have access to a wide range of employment services and receive higher salaries.
Another initiative approved by the Government today was the state programme that supported agricultural cooperatives that produced dairy production.
Authorities agreed the state program would have a budget of 360,000 GEL (about $154, 517/ €138,363) and this money will help farmers provide milk processing plants with high quality milk.
"This programme will enable farmers to establish a milk collection point. They will be provided with monitoring equipment that tests the quality of milk, which cost about 40-70,000 GEL," said Kvirikashvili.
"There are about 30 cooperative parties involved in milk collecting in Georgia. This programme will help them not only to collect milk and supply milk processing plants but to produce milk products themselves," he added.
Another important issue approved at today's Governmental meeting was a project that Kocks Engineers of Germany would implement in Georgia. The project envisaged road rehabilitation on the Khidistavi-Ateni-Boshuri, Tianeti-Akhmeta-Kvareli-Ninigori, Tchrebalo-Nokortsminda and Jinvali-Barisakho-Shatili sections of roads.
(Agenda.ge)