Pankisi Gorge's traditional Muslim mosques won't register early marriages
By Messenger Staff
Monday, March 28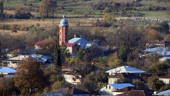 Traditional Islamic mosques in Georgia's eastern, mainly Muslim-populated Pankisi Gorge, will no longer register early marriages, Khaso Khangoshvili, the head of the Panksi Old Council stated about this.
However, the Gorge is also inhabited by Wahhabits, followers of fundamental Islam, who oppose the solution.
"Imams (worship leaders of mosques) of the traditional Muslim mosques will no longer register early marriages due to following reasons: an underage girl, before she reaches 18, is a pupil and a family burden is too heavy for her; based on our traditions, women have many obligations and for a minor it is a huge challenge to cope with them; and finally, Georgia's legislation prohibits early marriages," Khangoshvili said.
"We reached a joint decision; we have our way, while the Wahhabits have their views and attitudes," Khangoshvili added.
The people, women among them, who follow the rules of traditional Islam accepted the decision, saying that for an underage girl the burden of starting a family was too heavy.
Meanwhile, Wahabbits say religion has its own rules and the state laws must not influence them.
Georgia's Public Defender says the state laws should be respected by all religious representatives in Georgia. He also highlighted the importance of the campaigns tasked with raising awareness over education and problems with early marriage, especially in rural areas.
The fact that traditional Islam imams will no longer register early marriages and that they believe getting education is more beneficial for minors is a very positive step.
Such changes would lead to more beneficial outcomes, such as a more educated generation and less family violence.
It should be stated that together with the country's Muslim population, Christian Georgians also require special campaigns against early marriages.
The Pankisi Gorge is mainly inhabited by Kists; at present there are about 8,000 Kists in the Pankisi Gorge who mainly live in Duisi, Jokolo, Birkiani, Jibakhevi, Tsalakhani and Omalo villages.
Together with the Kists, the Gorge is populated by ethnic Georgians from the mountainous regions, Chechens and other ethnic minorities.