500 square meters of area burned at Economy Ministry
By Messenger Staff
Tuesday, March 29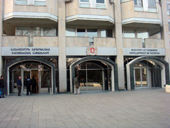 500 square meters of land and property has been burned at the Ministry of Economics.
As IPN was told by Emergency Situations Management Service of the Ministry of Internal Affairs, "112" service received notification from the Ministry of Economy about the fire at 06:05 am.
The fire has already been extinguished, after 11 fire brigades arrived at the scene.
(IPN)