EPP honorary president names a challenge for Georgia's visa liberalization
By Messenger Staff
Tuesday, March 29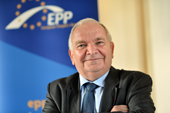 The European Peoples Party's (EPP) honorary President Joseph Daul has told Georgia's private broadcaster Rustavi 2 that the EPP group will support visa liberalization if Georgia's 2016 parliamentary elections are conducted freely and fairly.
The statement was promptly responded by Georgian officials and the opposition.
The majority said the current Government had proved in previous elections that it was for free and transparent races.
"Joseph Daul is no longer the head of the European People's Party – the European Parliament faction – and an MP. He is the honoured President of the party. Therefore, he cannot influence the European Parliament's decision," Tedo Japaridze, the head of Georgia's Foreign Relations Parliamentary Committee, said.
He said all European Institutions have positively assessed Georgia's progress on the path of Euro-integration. However, he addressed the chronic bickering of Georgia's various political factions. "In our opinion, international organizations must not be an arena of Georgia's domestic political battles but an instrument of consolidation, in favour of Georgia's national interests," he said.
"As we have been informed, the European People's Party supports the decision over Georgia's visa-free travel with Europe. Therefore, Mr. Daul's statement is only his private point of view," Japaridze added.
Meanwhile, the UNM says Georgia could have obtained visa-liberalisation with the EU earlier than this summer, it was announced.
The party representatives said the current Government's incompetence dragged out the process.
The fact is that striving to Europe is a choice of the Georgian people and multiple steps have been made for Georgia to become closer to the Euro-Atlantic structures.
High-level Georgian reforms have been acknowledged by many influential organisations and world powers, especially in the defence sphere; Georgia remains one of the biggest contributors to international peace and security.
Georgia deserves reciprocate steps from its international partners, including the visa-liberalisation, as the country has met all the necessary requirements.
Georgia appreciates the support from its partners, but all sides should relalise that Europe is a choice of the people and not a single political party or group.
On the long road to Euro-Atlantic integration, Georgia requires encouragement both from domestic and foreign forces.