March 2016: Georgia's GDP grows 3.4%
Tuesday, May 3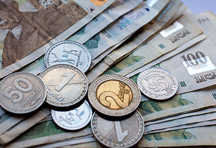 Georgia's economy is growing, shows preliminary data published by the National Statistics Office of Georgia (Geostat).
In March 2016, the estimated real Gross Domestic Product (GDP) growth rate reached 3.4 percent year-on-year (y/y), while the estimated real GDP average growth equalled 2.3 percent for Q1 2016 y/y.
Geostat noted the quarterly real GDP growth may significantly differ from monthly rapid estimates as data did not exist in some sectors and estimations were used instead.
Meanwhile Georgia's Prime Minister Giorgi Kvirikashvili said the country was preparing for a huge boost in economic growth and the goal was to achieve 3.5 percent economic growth in 2016 and hit six percent in 2017.
The National Bank of Georgia (NBG) projected Georgia's economic growth will reach three percent in 2016.
"Increased investments, especially in the construction sector, had a positive impact on economic growth and this trend is expected to continue this year," said the NBG.
International financial institutions forecast Georgia would experience three percent economic growth this year.
Global rating agency Moody's forecast Georgia's real economic growth will average three percent in 2016, while Bloomberg said Georgia's economy will grow and reach three percent this year.
World Bank Group calculated Georgia's economic growth for the next three years; it predicted Georgia's economy will grow three percent in 2016, 4.5 percent in 2017 and five percent in 2018.
Meanwhile the International Monetary Fund (IMF) projected Georgia's economy will experience six percent growth in 2017.
(Agenda.ge)