Urban vs rural
By Messenger Staff
Tuesday, May 3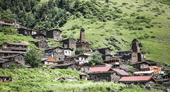 The National Statistics Office of Georgia (Geostat) has published its 2014 General Census data, which covered various aspects, the situation in urban and rural areas among them.
The data showed that 2,122,623 people live in urban parts of Georgia while 1,591,181 people live in rural areas.
Taking into account the fact that the population decreased mainly in rural areas, the urban/rural pattern of population changed significantly since the last census. The latest data showed the number of people living in urban areas increased by 4.9 percent and equalled 57.2 percent of the national population.
The 2014 General Census data showed Georgia's capital had significantly grown over the past 12 years.
Now, 1,108,717 people live in Tbilisi. This was a 2.5 percent increase since the previous survey in 2002.
In the other regions of Georgia, the most significant decrease in population occurred in Racha-Lechkhumi and Kvemo Svaneti (37.4 percent) and Samegrelo-Zemo Svaneti (29 percent), while the smallest population decline was recorded in the Autonomous Republic of Adjara (10.6 percent).
As it appears, people are mostly leaving Georgia's mountainous regions.
In many cases there is no education or healthcare available in mountainous areas, which prompts people to move elsewhere.
However, it should also be taken into account that Georgia has a fixed border only with Turkey, and there have been many cases recently when several villages devoid of a Georgian population have been claimed by a neighbouring power.
It is welcome that the Government has elaborated a special law for mountainous areas and benefits for the people living there. However, the issue requires a complex approach and a practical undertaking of what is written on the paper.
The fact that the number of residents in towns has increased is not good; Tbilisi is already overcrowded, roads are jammed with vehicles and pollution is high.
In case the situation does not improve in Georgia's regions and people do not stop moving to big towns, the situation could become unbearable in Tbilisi very soon.