EU offers €3.2 million to better monitor Georgia-Turkey border
Monday, May 16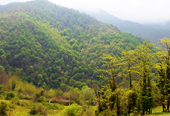 The European Union (EU) is providing €3.2 million to better control Georgia's border with Turkey.
The funds will be provided under the EU-funded More for More project and will facilitate the installation of better surveillance and control of green border areas that are unmanned and located forestry areas.
The money will be used to purchase and install surveillance and communication equipment at four sections of the border between Georgia and Turkey, said the EU in a press release on informedmigration.ge website.
The initiative was part of the EU-funded project 'Reinforcing the Capacities of the Government of Georgia in Border and Migration Management' (More for More), implemented by the International Organisation for Migration (IOM) in Georgia.
The project aimed to assist the Georgian authorities in implementing the Visa Liberalisation Action Plan (VLAP) and in dealing with the challenges posed by the management of border and migration flows, the IOM said.
The IOM has already completed three scoping missions to Sarpi, Kirnati and Vale border sections. The final visit to Kartsakhi in the Samtskhe-Javakheti region of Georgia was completed on May 10 this year.
The aim of the missions was to gather information on the challenges faced by border officials due to the irregular movements by a range of different nationalities in recent months.
The IOM's border management experts have also analysed how the EU investment in surveillance and communication equipment would enhance operational effectiveness of the Georgia-Turkey border.
(Agenda.ge)