US condemns Tskhinvali initiative
By Messenger Staff
Monday, May 30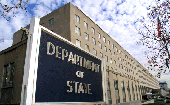 An official representatives of the United States (US) Department of State has stressed that America would never respect or recognise the attempt of Georgia's eastern de-facto Tskhinvali (South Ossetia) region to conduct a referendum whether to join Russia or not.
US Department of State Spokesperson Mark Toner stated at last week's briefing his country supported Georgia's sovereignty and territorial integrity within its international recognised borders and never discussed breakaway Abkhazia and Tskhinvali as separate, independent republics.
"Our position to Georgia is the following: we support Georgia's sovereignty and territorial integrity, which also covers South Ossetia. Consequently we don't recognise the attempt of South Ossetia to gain independence or demand sovereignty: we simply don't support this," Toner said.
The leader of Tskhinvali, Leonid Tibilov, has stated the breakaway area planned to hold the referendum next year.
The entirety of the civilized world considers Tskhinvali and Abkhazia as integral parts of Georgia.
Russia and Nicaragua recognised the breakaway regions as independent republics in 2008 in the wake of the Russia-Georgia war. In 2009, Venezuela, Nauru and Tuvalu took the same step.
Russia needs the breakaway regions as levers to exercise pressure against Georgia at will.
Of the two, Tskhinvali is always more obedient to Russia and directly fulfils Moscow's demands without protest.
The situation in Abkhazia has always been different, and Russia's policy towards the region differs too. Many Abkhazians believe that Russia is trying to directly dominate the region rather than recognise their independence.
Gradually, the number of Abkhazians is decreasing while the number of Russians rises; when native Abkhazians realise that Russia wants their land but not their people it might well be too late to do anything about it.
Georgia should stick to its policy of reconciling its people; this is the only sensible way of reintegrating Georgia's lost territories.