Abkhazia does not want to join Russia
By Messenger Staff
Monday, June 13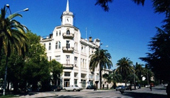 The de-facto Prime Minister of Georgia's western breakaway region of Abkhazia has told Russia's news agency RIA novosti that the region does not plan to hold a referendum to join Russia.
The statement came after the claims of Georgia's other breakaway territory, Tskhinvali (South Ossetia), about conducting such a referendum next year.
"We do not oppose the referendum in South Ossetia. Tskhinvali's motives are clear. Ossetians are divided, part of them now live in Russia, some in South Ossetia. Therefore, they have a natural desire to reunite," the de-facto Prime Minister of Abkhazia Arthur Mikvabia told RIA novosti.
"We have a different situation. We want to be an independent country and a reliable and loyal ally of Russia," he added.
The attempt of Tskhinvali to hold the referendum was strongly condemned by the Government of Georgia and almost the whole of the international community, as they believe Tskhinvali and Abkhazia are integral parts of Georgia.
The Government of Georgia stated the referendum violated all international laws and regulations and had no legal basis.
Russia and Nicaragua recognised Abkhazia's and Tskhinvali's independence in 2008 in the wake of the Russia-Georgia war. In 2009, Venezuela, Nauru and Tuvalu took the same step, but after several years Vanuatu reversed its view and said the regions were part of Georgia.
Abkhazians have always been different from South Ossetians. It was always easier for Russia to do everything it wished in de-facto Ossetia.
Abkhazians clearly state they wish independence both from Georgia and Russia. However, gradually they will guess or they have already guessed Russia needs only the land without the locals.
Step by step Russia will settle its own people there and when their number will outnumber the locals Moscow will then declare the land is Russian.
Herewith, if one looks at the photos of Abkhazia, they will see signs of very low development. The Abkhazian coast is the most beautiful in all of Georgia, but unlike Batumi, Abkhazia has not enjoyed a transformation into a modern and developed city, something that would undoubtedly have happened had Abkhazia remained as an official part of Georgia; many younger Abkhazians are undoubtedly aware of this, and will hopefully realise that being a part of Georgia would be more beneficial for the region.