Russia's Foreign Minister: "I love Georgia"
By Messenger Staff
Monday, July 25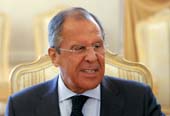 Russia's Foreign Minister Sergey Lavrov claims he loves Georgia, and stressed that Tbilisi should initiate the restoration of diplomatic ties suspended under the previous United National Movement (UNM) government.
Lavrov said it was Georgia's ex-President Mikheil Saakashvili who suspended diplomatic links with Russia, and a decision taken by Moscow.
He emphasised that the restoration of relations should be initiated by Georgia.
Lavrov noted with regret that he couldn't visit Georgia because of his official capacity of foreign minister.
"But I have lots of friends who often visit Georgia and love this country – we probably all love this country," he said.
He also highlighted that trade has been restored and Georgian products, including wines and mineral waters, were allowed into the Russian market under the current Government of Georgia since 2013.
"I think that this trend is the right one," Lavrov said.
However, "The restoration of diplomatic relations with Russia cannot be considered at this stage," Georgia's Prime Minister's Special Representative for Relations with Russia, Zurab Abashidze, said in response to Lavrov's remarks.
Abashidze stated "there was no progress" made on difficult issues such as the problems of Abkhazia and the Tskhinvali regions which are now occupied by Russia, and therefore, it was impossible at this stage to talk about the restoration of diplomatic relations.
"Unfortunately, there is no progress in the most difficult issues, specifically the problems of Abkhazia and the Tskhinvali, which are being discussed in the Geneva international format. If Russia has the political will, we are ready to jointly take steps to resolve the most complex problems step by step. Georgia will never put up with the reality created in Abkhazia and the Tskhinvali region,|" said Abashidze.
According to the Special Representative, there are a number of practical issues wherein some steps have already been taken.
"Over the last three years we have restored trade and economic relations, as well as transport links; we have promoted the development of tourism and resolution of certain humanitarian problems; to some extent the visa regime has also been simplified for Georgian citizens, so we have taken some practical steps," Abashidze said.
The Russia-Georgia War of 2008 was the result of Russia's consistent provocations in and near Georgia's de-facto separated regions.
The international community continues to stress that the regions are part of Georgia, but Russia recognised them as independent republics and continues to occupy them.
Herewith, the country carries on its creeping occupation on daily basis, kidnaps Georgian citizens, violates human rights on Georgian soil and other unjustified actions.
It is very obvious Russia expresses a very unusual type of "love" to Georgia.
If Georgia restores diplomatic ties with Russia in the current situation, it would be the recognition of the loss of Georgia's historic territories, which constitutes 20 percent of its land.