Cars collided on Rustaveli Avenue
By Messenger Staff
Tuesday, July 26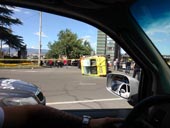 On July 23 a yellow mini-bus (marshutka) and a taxi collided with each other on Rustaveli Avenue in central Tbilisi.
The passengers of the marshutka suffered minor injuries; one of them has been hospitalized. His health condition is not critical.
An investigation is in progress over possible violations of traffic rules.
It should be stressed that two of the main violators of the rules of the road in Tbilisi are marshutkas and taxis; both frequently cause accidents.
Marshutka drivers often drive aggressively and pick up more passengers than is safe, blatantly violating traffic laws and their company policy.
Drivers are not dissuaded by the fact that they know if their vehicle is damaged, an insurance company will provide finances and they less worry about the car.
With regards to taxis, as the unemployment level is high in Georgia - especially in Tbilisi – the country is full of taxis, without any checks as to how qualified a driver is to serve a client.
A member of the Movement State for People, journalist Merab Metreveli, believes the Government always refrains from restricting traffic rules close to elections.
He says that since about 600 people die in car accidents in Georgia annually, the figure for three million Georgia is "alarmingly high."
The figure and the causes of car accidents are really alarming and the problem must be addressed. Together with taking steps to improve the infrastructure, the Government - and especially the Ministry of Internal Affairs - must be intolerant of traffic violations.
Georgians are used to violating traffic rules and the country requires a very strong administration to gradually study how to make all drivers obey the rules of the road and not endanger their own lives or the lives of others.
A good information campaign and enforcement of the law, without exceptions, can change the situation in Georgia in this regard.
The Government must also keep its promise and introduce certain rules and regulations for taxi drivers in the near future.
The Tbilisi Mini-Bus Company and the Mayor's Office must also take measures to control the marshutkas.