Russia - main actor in South European conflicts
By Messenger Staff
Monday, October 17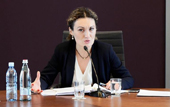 Georgia's Minister for Reconciliation and Civil Equality, Ketevan Tsikhelashvili, sees Russia as the main actor in conflicts facing 'Southern European' countries.
The Minister made the statement in response to the claim of the Kyrgyz President Almazbek Atambayev who first visited Georgia last week and stated only one side is rarely to be blamed in unleashing the war.
The President stated this when speaking about Russia-Georgia war in 2008. In the wake of the war, Russia has occupied two Georgian regions - Abkhazia and Tskhinvali - which constitute 20% of Georgia's territory.
Atambayev said conflicts can be settled in a peaceful manner, without phoning Russia or Washington.
Commenting on the topic, the Kyrgyz leader also said he supported Georgia's sovereignty and territorial integrity.
"There are unresolved conflicts in five out six Eastern Partnership countries - Ukraine, Moldova, Georgia, Armenia and Azerbaijan - and the main actor in all cases is Russia," Tsikhelashvili said.
"We know very well what is going on in the neighborhood. What had been going on all these years and who contributed to the unresolved conflicts of the EU's Eastern Partnership countries," Tsikhelashvili added.
The Minister continued "it was wrong" to argue about who is interested in these conflicts.
"We can consider whether we could avoid such open provocations. Our government has been doing everything over the last 4 years to avoid any kind of provocation. We maintained peace and stability, as this is a prerequisite for the development of our country," the Minister said.
When in the 21st century a country becomes involved in the internal issues of so many other countries, it can easily be accused of triggering confrontations and interfering in other countries' issues.
Russia has always acted in its own interests. The entirety of the international community is aware of this but refrains from open confrontation; Moscow remains unpredictable, and the West has no desire to spark World War Three for the sake of countries like Georgia.
Russia occupies 20 % of Georgia's territory and at the same time, on a daily basis, it erects new barbed wire barriers and so-called border signs, undertaking a creeping occupation operation despite the fact that the current Georgian Government does its best to somehow settle relations with Russia.
In this way, Georgia cannot be accused of contributing to the unresolved conflicts of Abkhazia and Ossetia.