TBC Bank Wins Multiple Awards for Best Private Banking Lines
Monday, November 7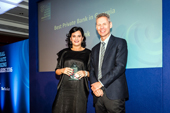 TBC Bank has been named the "Best Private Bank in Georgia 2016" by The Banker and Professional Wealth Management (PWM) magazines and the "Best Private Bank in Georgia for 2017" by Global Finance magazine.
TBC Bank has won The Banker's and PWM's joint award for the third year running since the publications first extended this prestigious competition to Georgia in 2014. Global Finance extended its annual World's Best Private Banks Awards to Georgia only this year and TBC Bank has received the inaugural award.
Both magazines commended TBC's affluent banking service model, with its well-trained relationship managers, the breakthrough design concept of its affluent banking, "TBC Status", special lifestyle services, and market leading multichannel capabilities. The Banker underlined the fact that TBC Bank holds a significant competitive advantage in internet and mobile banking applications, thanks to its long-established strategy of focusing on digital channels.
Commenting on the news, Vakhtang Butskhrikidze, TBC Bank's Chief Executive Officer said: "We are proud to receive these distinguished awards as they are recognition of our excellent track record in delivering the best private banking experience on the market and we continue to focus on offering next generation banking services to our customers."
The Banker's and PWM's joint awards recognize players that are emerging as industry leaders in private banking. Private banks operating in Europe, Asia, North America, Middle East, Latin America and Africa, or globally, are evaluated against a set of growth and performance measures, as well as on their particular private banking services.
Global Finance's editorial board selected the winners making use of entry submissions, market research, input from industry analysts and executives, and other users of private banking services.
(tbcbank.ge)