New E-Georgia: EU helps develop e-Government in Georgia
Monday, November 7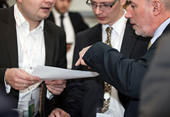 Georgian and international experts are working together to develop an e-Georgia Development Strategy and turn Georgia into an IT-based governance state.
We are actively working on the e-Georgia Development Strategy. This document is a guideline based on international and local experiences and best standards in practice," said chairman of Georgia's Data Exchange Agency (DEA) Irakli Gvenetadze.
The Strategy unites all state institutions and identifies the necessary activities, the implementation of which can turn Georgia into a sustainable e-Governance model state," he added.
The new e-Georgia would improve access to e-services for businesses and citizens, strengthen transparent and open governance, and define the role of information technologies in administration reform.
For this purpose the European Union (EU)-funded 'Twinning workshop' was held this week in capital Tbilisi, where EU experts and representatives from the Georgian Government discussed the country's e-Government Development Strategy for the next two years.
The event was part of the 'Support to Strengthening of e-Governance in Georgia II' project.
International experts from Great Britain, Austria, Estonia and Denmark presented their recommendations for the document.
The final version of this document is to be approved by the Government of Georgia.
The EU Twinning project 'Support to Strengthening of e-Governance in Georgia II' is a two year project aimed at assisting implementation of Georgia's E-Government Strategy with a total budget of €1.3 million.
Electronic governance - or e-governance - is the application of information and communication technology for delivering government services as well as back office processes and interactions within the entire government framework. Through e-governance, government services will be made available to citizens in a convenient, efficient and transparent manner.
(Agenda.ge)