Company Makes Explanations over Expired Products in Kindergartens
By Tea Mariamidze
Tuesday, February 13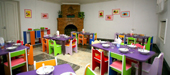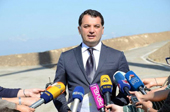 LTD Nil, which supplies Tbilisi state kindergartens with products, has made explanations over the recent allegations from Non-Governmental Organizations (NGOs), saying Nil supplied kindergartens with expired salmon.
Nil released a statement, claiming they meet all standards and note the recent developments around the company are the result of "false and ungrounded" accusations from some interested people.
"Our company has been working on the Georgian market since 2005 and has gained recognition and prizes during the 13-year period. The company is the leader of the industry and the false accusations over improper quality are aimed only at discrediting us," the statement reads.
Nil assures the products they take to kindergartens undergo proper laboratory tests every month and are safe for children.
"We guarantee that the products of Nil are of the highest quality," the company added.
The allegations towards the company started three days ago, when the NGOs claimed the Salmon fillet, provided to the kindergartens by Nil LTD, was expired.
The NGOs added the labeling said the fish was refrozen, which intensified dissatisfaction.
Inga Kalandadze, the leader of the NGO Preschool children – Our Future, stated not only Nils ,but the principals of the kindergartens as well should be held responsible, adding they knew that fish was expired but still let the children eat it.
Chairman of Georgian Customers Federation, Madona Koidze explains that it is unacceptable to feed children with refrozen products, especially meat and fish.
"When you defrost products and then refreeze them, the amount of microbes increases and the product is no longer suitable for eating," she underlined.
Furthermore, the NGOs added that LTD Nil sent new labels to kindergartens, and asked the principals to replace old labels with the new ones - which said the fish was fresh. The principals did not confirm to media that they were instructed by the company to replace the labels.
Sandro Kuloshvili, representative of Nil, said the fillet was not expired, and that the frozen fish that had a two-year term was exported from the USA in August 2017
"All the products had proper labeling and this misunderstanding is the part of a deliberate campaign against our company," he added.
The issue of allegedly expired products was the subject of discussions at Tbilisi City Council session on February 9. The opposition parties demanded proper explanations from the Mayor's office over the issue.
Deputy Tbilisi Mayor, Ilia Eloshvili, stated that all the products, supplied to Tbilisi kindergartens are fresh and not dangerous.
"It was just a misunderstanding. The company forgot to attach proper labeling to the products and the statements made in this regard are speculations," Eloshvili stressed.
There are around 61,000 children in Tbilisi state kindergartens at present.