Venice Commission is Positive about Georgia's Constitutional Reform
By Gvantsa Gabekhadze
Monday, March 19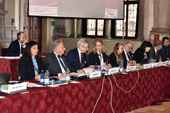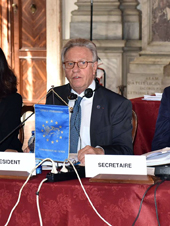 The Venice Commission of the Council of Europe has again stated in his final report that Georgian constitutional reform, which is mostly criticized by the opposition, is a step forward.
"The Constitutional reform completes the evolution of the political system of Georgia to the Parliamentary system and is a step forward in improving and consolidating the Constitutional arrangement of the country on the basis of the fundamental principles of democracy and the rule of law," the report released last week reads.
The Commission hailed the replacement of the mixed electoral system with the proportional system to be enacted after Parliamentary elections in 2020.
Along with a reduction of the threshold to appear in parliament from 5 to 3 percent the Parliament of Georgia, in line with the Venice Commission recommendations, has admitted the single time participation of blocs in the 2020 elections.
"The Commission approves the annulment of the bonus system for the proportional system and the distribution of undistributed mandates to all the parties overcoming the threshold. The changes adopted with the second reading on December 15, 2017, create favorable conditions for small parties and serves the provision of pluralism in Georgia," the report reads.
Georgian Parliament adopted the draft constitutional changes in September last year.
The key amendments in the country's main law included that:
Georgia will switch to fully proportional elections in 2024;
The 2020 parliamentary elections will still be held through the existing mixed proportional and majoritarian system but the election threshold will be lowered to 3 percent from 5 percent for these elections only;
The president will be elected by a special council starting in 2024;
In 2018, the president will still be elected directly but for a six and not a five year term.
Selling agricultural lands to foreign nationals will be prohibited.
The opposition rights in parliament will be boosted, permitting them to create investigative commissions and others.
It was the Venice Commission's third report on Georgia's constitutional reform.
The previous, second report was issued on October 6, 2017, saying the constitutional reform was ongoing to the right direction.
However, the Commission added that the postponement of the entry into force of the proportional election system to October 2024 was "highly regrettable" and was a major obstacle to reaching consensus with the opposition.
The Georgian opposition parties believe that the constitutional reform is "adjusted to the Georgian Dream ruling party interests."
They stated that Georgia must have switched to the fully proportional elections from 2020 and the president must be elected by people.