Experts About the Future of Russian-Georgian Relations
By Vladimer Napetvaridze
Monday, March 19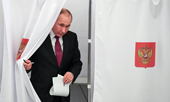 In his interview with "Amrekiskhma", Paul Stronski, senior Russian researcher at Carnegie Foundation stated, that for next six years Putin will continue pressure on Georgia and other neighbors countries: "While Putin is involved in ongoing processes in Ukraine and Syria, it gives other countries and Georgia time. However, Georgia is still vulnerable to Russia ... Georgia still faces aggressive policy of Russia in Abkhazia and Tskhinvali, and moving the administrative border using the barbed wire fences is an example of this. It is very disturbing fact. We are often focusing on Russia's actions in Syria. At the same time, Georgia is still under attack and danger. I don't think that Russia will destabilize Georgia in the nearest future, but it will continue to put pressure on Tbilisi. This is very disturbing for the Georgian people. The West needs to be in close cooperation with Georgia and to support the country overcome Russian pressure," Stronski added.
Michael Kofman, a researcher at the Kennan Institute, also believes that Russia will continue to put pressure on Georgia: "One of the main goals of Russia is to hinder Georgia joining NATO. And while Tbilisi will not get Membership Action Plan (MAP) which is a real prospect of membership, the status quo for Russia is profitable. I think that Russia is satisfied with its positions in Georgia ... Russia is monitoring the situation, it is observing how much NATO wants to help Georgia. We know that last year Georgia has received javelin anti-tank missiles, but it is less alarming for Russia than the possibility for Ukraine and Georgia to get their membership action plan. And as long as Moscow thinks that Georgia will not become a member of NATO, Russia is in a comfortable situation," said Kofman.
Both interviews emphasize the threats Georgia faces from Russia, both experts believe that Russia will continue to put pressure on Georgia, but it will not be radical. Stronsky assumes that Russia will have less pressure on Georgia, because of its engagement with hostilities in Ukraine and Syria. Kofman notes that Russia is satisfied with the current situation and it does not need to tense the situation because Moscow thinks that Georgia will not get NATO's membership action plan.
Stronsky says that the West should support Georgia as Georgia does not have the power to cope with Russian aggression alone, but Kofman has a slightly different position on this issue. He believes that "over-assistance" to Georgia may be alarming for Russia and it can cause radical measures from Moscow.
Regardless of what experts say about possible Russian aggression, the fact is that it will be difficult for Georgia to cope with the Russian aggressive policy without help , whether it is issue of crawling occupation, anti-western or propaganda, which seeks to replace the existing anti-Russian attitudes in society.
There is a very low chance that the 2018 presidential election in Russia will radically change Russian foreign policy. Almost no one doubts that because of various reasons, Putin will win the elections again, and even if Russia has another President, radical changings in a foreign policy of Russia will not happen. Despite the heavy economic situation in the country, each aggressive international action of Russia causes the growth of Putin's popularity. The fact is indicating that the Russian society/voters prefer to feel as citizens of a strong empire, capable of managing an internal policy of other countries rather than to live in developed country with prosperous economy.