PM Kvirikashvili Says Georgia Gained $2.7 Billion from Tourism in 2017
By Tea Mariamidze
Friday, March 30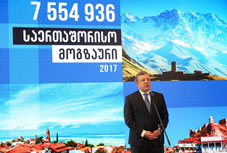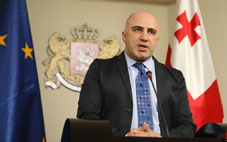 Georgian Prime Minister, Giorgi Kvirikashvili stated that the income from tourism in 2017 amounted to $2.7 billion, adding last year more than 7.5 million tourists visited Georgia.
The PM expects that this year, the number of visitors will exceed 8 million.
On March 29, at the presentation of the National Tourism Administration report 2017, the PM stated that tourism has become Georgia's locomotive.
"I am sure that in 2018 we will have more than 8 million tourists. Our economy saw and will see significant income from tourism," the PM added.
Kvirikashvili also highlighted that Georgian government pays much attention to increase the service standards and safety of the tourists in the country.
The PM once again underscored that since January 1, 2018, Zurab Pololikashvili has been the Secretary-General of the World Tourism Organization (UNWTO) after being elected by the 22nd Session of UNWTO General Assembly.
Before that Pololikashvili was Ambassador Extraordinary and Plenipotentiary of Georgia to the Kingdom of Spain, the Principality of Andorra, the People's Democratic Republic of Algeria and the Kingdom of Morocco and Permanent Representative of Georgia to the World Tourism Organization (UNWTO) up to December 2017.
"Pololikashvili's election means that Georgia established its place in world tourism and is one of the most attractive countries for the tourists in the world. It also means that reforms, implemented in the country, brought positive results," the PM added.
Kvirikashvili expressed hope that the positive trend of tourism development will continue in the future.
According to the head of the Georgian National Tourism Administration Giorgi Chogovadze, in 2017, Georgia hosted 7,554,936 international visitors (tourists, transit, other), which was 18.8 % increase year-on-year. As for tourists alone, last year Georgia hosted 3,478,932 tourists (+27.9 percent).
The top 5 countries from where the largest number of visitors came to Georgia in 2017 were: Armenia, Azerbaijan, Russia, Turkey and Iran.