Development of Anaklia Special Economic Zone
By Levan Khutsishvili
Friday, March 30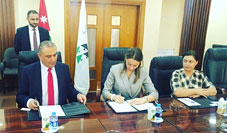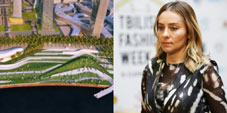 On March 27, 2018, Anaklia City signed the memorandum of cooperation with Aqaba Special Economic Zone Authority (ASEZA) which covers an agreement about shared experience and collaboration. ASEZA is located in Jordan and is considered as one of the most strategic and successful projects of recent years.
Aqaba is one of the largest special economic zones in Jordan and is based on a strategic location around the Aqaba ports on the Red Sea. The Aqaba Multicultural Special Economic Zone also includes Jordan Coast, Port Infrastructure and Airport. ASEZA was founded in 2001 with a purpose of developing tourism sector, service sector and industry. By this time, the economic zone has already managed to attract more than $ 16 billion worth of investments and a big number of international companies in the region.
This cooperation is important for development of the Anaklia City and Special Economic Zone in Anaklia. Besides, ASEZA is collaborating with one of the world's largest economic zone – Incheon in South Korea and with largest economic zone on border of China-Kazakhstan – Khorgos.
"It is to become regional logistics and business hub. In the frames of the initial stage we plan to develop the logistics and industrial parks within the territory of about 400 hectares, positioned as regional logistics, distribution and transportation centres. The Anaklia SEZ will become the frontier business centre for international companies to serve the consumer markets of the Caucasus, central Asia and north-western Iran," said, Executive Director of Anaklia City - Keti Bochorishvili in the interview with Emerging Europe.
Development of the Special Economic Zone will significantly contribute to development of local economy. Major growth is expected due to the port and all other infrastructural developments that has been implemented in recent years.
"Economy will grow based on three major pillars of demand: the demand from newly arrived Anaklia-citizens, the demand from port-related activity, including hinterland transport, and the demand from the special economic zone, which will be a drive for employment generation, export development, foreign direct investment, technology transfer, economy transformation from agriculture to manufacturing, experimental environment for countrywide reforms and maximization of value addition in Georgia. With low labor costs, a business friendly environment, a growing economy, a suitable location, government incentives and favorable living conditions, the SEZ in Anaklia will have a compelling argument to draw foreign companies to Georgia," stated Ms. Bochorishvili.
Cooperating with the largest economic zones in the world, Anaklia City Management Team focuses on bringing successful international experiences to Georgia.