Economy Minister Visits United Arab Emirates, One of the Biggest Investors in Georgia
By Levan Khutsishvili
Wednesday, April 11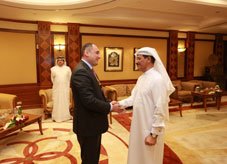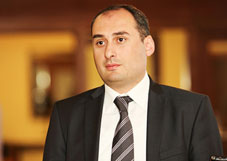 On April 9, in the frames of official visit to United Arab Emirates, Minister of Economy and Sustainable Development of Georgia Dimitri Kumsishvili met with the Minister of Economy of Emirates Sultan bin Saeed Al Mansuri.
The two sides discussed trade-economic relations between and significant progress in trade, economics, investment and tourism was discussed. According to the data of the first two months of 2018, Georgia's trade turnover with Emirates increased by 14%, including exports by 25%. The first Vice Prime Minister, United Arab Emirates is one of the largest investors in Georgia. According to the data of 2017, Emirats was 7th largest investor.
"We talked about the volume of trade we have between the two countries, as well as the level of investment coming from United Arab Emirates. As of today, this figure exceeds 800 million dollars and we hope that investments will be increased in future. It is also very important that the number of visitors in Georgia using United Arab Emirates airline companies -"Fly Dubai" and "Air Arabia" last year amounted to more than 325 thousand visitors," said Kumsishvili.
Ministers also noted positive trend in the field of tourism between Georgia and the Emirates. In the first two months of 2018, Georgia attracted 7 percent more tourists from the United Arab Emirates compared to the same period from last year. It was highlighted that the increased number of tourist is a result of arranged direct flights between the countries. From the Emirates, two airlines operate regular flights, including "Fly Dubai" - 21 flights per week and "Air Arabia" - 7 flights per week. These two airlines assisted 26% more passengers during the first two months of 2018, than during the same period of 2017.
Besides the existing progress in relationship between the countries, the ministers also spoke about the future cooperation.
Dimitry Kumsishvili noted the importance of agreement between Georgia and United Arab Emirates about Protection of Investments, which took effect in April 2018. Georgian Minister expressed hope that this agreement will allow Georgia attract more investments from Emirates.
Kumsishvili emphasized the initiative of Georgian Government appointing Commercial Attaches in 6 leading countries and United Arab Emirates is one of them. Functions of the Commercial Attache is to support export, organize investments and protect Georgian business in host country.
Free trade agreement with the Gulf countries was also covered.
"I am fascinated by the changes that are being implemented in your country and how open it is to investments. We are optimistic about future cooperation, "said Sultan bin Saeed Al Mansur.
The sides agreed to continue the cooperation in priority directions and create closer economic relations between the countries.