Interior Minister Says Economic Development Depends on Security
By Tea Mariamidze
Wednesday, April 18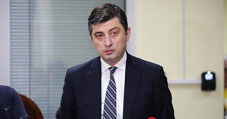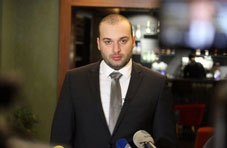 Minister of Internal Affairs of Georgia Giorgi Gakharia believes that economic development of Georgia highly depends on the security situation in the country.
Gakharia made the statement after meeting the members of the Georgian Business Association.
"Security is the minimum requirement without which, fast and sustainable economic development is impossible," the Minister stated.
Gakharia explained that Georgians are living and working in a region that is facing many challenges, adding very important sectors of Georgian economy, including tourism, transit and energy, are directly related to security issues.
"I am confident that this cooperation will be essential, practical and fruitful for both sides. Today we are going to tell you about the reforms that are being implemented in the Ministry of Internal Affairs and we are ready to answer all the questions you have", he told the businessmen.
Giorgi Gakharia, who used to serve as the Minister of Economy in the past, added that all brakes of economic development in Georgia should be removed, in order to promote economic growth.
"We should turn Georgia from the country of challenges into the place of opportunities," he stated.
He also added that beginner businessmen and companies should have more access to the starting capital in order to develop their businesses.
As for the statement of Finance Minister, Mamuka Bakhtadze, who stated that "banks are brakes of Georgia's economic development", Gakharia says is partially true.
"We cannot speak only about one side of the issue, but regarding the small and medium businesses, I can say that more attention should be paid to accessibility of the finances," he noted.
Several days ago Finance Minister of Georgia criticized Georgian banks, saying they are "brake" of the economic development of the country.
The Minister stated the main problem in the banking sector is high-interest loans, adding they are hampering entrepreneurship and business development.
Bakhtadze talked about the new initiative of the government - the Starting Capital Reform, and stated that the main goal of the reform is to promote implementation of competitive projects, which will increase the economy.