Interior Ministry Releases Statistics Following Anti-Drug Policy Rallies
Tuesday, May 15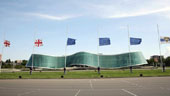 Following the large-scale rallies of the youth, who protested against the Friday midnight police raids in Tbilisi nightclubs and arrest of dozens of clubbers, the Ministry of Internal Affairs (MIA) of Georgia has released the statistics of seized drugs during the last five months throughout the country.
According to MIA, a total of 9 kilograms of heroin, 1.2 kilograms of cocaine, 5 thousand buprenorphine-containing pills and 1.7 kilograms of MDMA and 850 grams of other drugs were seized from January 1 to May 10.
Ministry of Internal Affairs also reports that one of the recent drug seizures happened at Vale border checkpoint in Samtskhe-Javakheti region, near Turkey.
The police found 1.500 kilograms of hashish during the personal search of the detained Azerbaijani citizen who now faces from eight to 20 years imprisonment.
Also, the central criminal department arrested two Iranian citizens recently at Tbilisi International Airport who were found to have 730 grams of heroin and 14 pills of methadone. They also face imprisonment from 8 to 20 years.
The police also arrested another citizen of Iran, who was keeping drugs in his car. He faces 5 to 8 years in prison.
Furthermore, earlier in May the MIA stated they arrested 9 drug dealers, adding 2 persons out of them were using a special mobile application to contact the people and provide them with drugs.
The arrested men are 24 and 27 years old and were arrested in Tbilisi. Large amount of drugs were also seized from the flat and a car of one of the dealers.
The Ministry stated that the rest 7 people had been arrested for selling drugs.
Among the detained one person is a citizen of Turkey. Policemen seized from him 393 pills of Ecstasy containing the narcotic drug MDMA.
MIA also detained a citizen of Georgia and France adjacent to Tbilisi International Airport. Police seized 12 pills of Subutex and 4 pills of Methadone from the detainee.
"The Interior Ministry continues its uncompromising fight against drug trafficking in cooperation with the Prosecutors Office," the statement of MIA reads.