Was Compromise Necessary?
By Levan Khutsishvili
Tuesday, May 15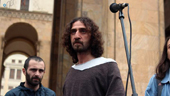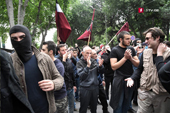 On May 12, Georgian Ministry of Internal Affairs organized special operation in night clubs Bassiani and Cafe Gallery "in order to arrest drug dealers". The special operation was perceived as an attack to the will of freedom, and White Noise Movement organized a demonstration in front of the old parliament building.
On May 13, the Minister of Internal Affairs Giorgi Gakharia met with the group of protest organizers and an agreement on temporary pause of the rallies was reached.
"We have already compromised a lot in order to avoid escalation and we will not compromise more," said Beka Tsikarishvili, one of the main organizers of the demonstration, after the meeting with the Minister of Internal Affairs.
The question is how realistic was the threat of escalation and how adequate was the decision that rally organizers made.
Opinion of rally supports was divided into two parts. One group believes that demonstration should have been continued until the government satisfied their demands.
"People who entered to negotiate with the Minister have stepped back and I feel that I was betrayed," wrote Davit Subeliani, one of the organizers of the rally.
However, major part of the marchers agreed with the decision. Large amount of police officers were mobilized on Rustaveli Avenue in order to separate the two demonstrations, activists of the rightist Orthodox groups were notably aggressive and openly saying that they were prepared for a physical confrontation.
"We are prepared for such incidents, we have "Squads of Black-shirts" and we are ready for confrontation. We are ready to protect our country," said one of the participants.
Marchers from the opposite rally surrounded the demonstration organized by the White Noise Movement and were attacking police cordons, saying: "If they want blood, they will get sea of blood".
A Number of rightist marchers was arrested, and at around 9 p.m. special forces and water cannon machines were mobilized on Rustaveli Avenue.
If Beka Tsikarishvili and other organizers could not reach an agreement with the Minister of Internal Affairs and continued the rally, police would have no choice but to use force.
As a result, there would still be huge possibility that radical right-wing movements such as "Georgian March", "National Unity" and others would continue attacks on police and protesters, which could have caused destabilization of the country, especially when Georgian society is already divided between two camps in this order.
White Noise Movement has created a possibility for discussing the drug policy with the government and for achieving their goals. They received a promise from the Minister of Internal affairs, who also said that in case the minister does not meet his promises given by the agreement, the youth will be allowed to renew the protest without any restrictions.
"This is a fight that has not started today and we are not going to finish it tomorrow if we do not get to the end. Therefore, our protest and demands will always be legitimate, and if our requirements will not be fulfilled we will continue to protest.
We take a one-week deadline to monitor the working process and see how it will go. Saturday we will announce the demonstration in advance in a more organized way. During this period, we will see how realistic will be the promises which we received today and will act accordingly," said Beka Tsikarishvili.