French Company Selected to Rehabilitate Georgian Leuville Estate in France
Tuesday, May 29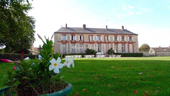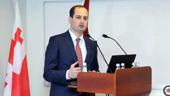 (LEUVILLE, France) - The Government of Georgia has selected a French company to rehabilitate a historic Leuville Estate in France, the initial shelter of the exiled government members of the First Democratic Republic of Georgia.
"After the Leuville Estate was handed over to Georgia [in 2016], the state took the responsibility to create the Georgian historic-cultural hearth in Europe," the Georgian Foreign Minister Mikheil Janelidze stated on Sunday.
"On May 16, the 100th anniversary from the creation of the First Democratic Republic of Georgia will be marked at the Leuville Estate and the whole diaspora of France will attend it. We have already started working with a French company. The French company, which is preparing the concept for rehabilitation works of the Leuville Estate, has been selected. It will ensure these works to be carried out in line with high standards," Janelidze said.
On May 16 the first Georgian-France memorial centre will also be arranged on the location.
Georgia has spent about 25 years to return the venue to Georgian ownership from the families of the exiled Georgian government who acquired the chateau in 1927 using Georgian state finances.
The arduous owner transfer process involved numerous individuals and a special committee that accelerated negotiations since its creation in 2014.
Families of the exiled Georgian Government wished to see the historical status and profile of the Estate preserved after its handover to Georgia.
Georgia's connection with the Estate began in 1921 when then-chairman of the government Noe Zhordania, government members and a handful of Georgian representatives and their families boarded the Ernest Renan ship in Georgia to escape the Soviet invasion of the country.