Georgia on E-governance's World Map
By Vladimer Napetvaridze
Thursday, June 7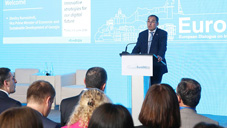 On 5-6 June, an international forum of European Dialogue for Internet Governance 2018 (EuroDIG) was held in Tbilisi. EuroDIG is a multi-stakeholder platform created to exchange views on the Internet and the ways it is managed. The international forum was created in 2008 by several organisations, government representatives and experts, encouraging dialogues and collaboration with the Internet community on public policy for the Internet. In frames of the event, more than 300 hundred guests, from all over the world visited Georgia to participate in the forum.
At EuroDIG 2018 official opening ceremony, the First Vice Prime Minister of Georgia, Minister of Economy and Sustainable Development Dimitry Kumsishvili introduced the vision and initiative of the Georgian Government regarding the ICT sector. "In order to develop the knowledge-based and an innovation-driven economy, Georgian Government intends to transform the country into a regional hub of Information Technologies with highly skilled workforce," – Dimitry Kumsishvili stated
Regional Director for the South Caucasus, Europe and Central Asia of the World Bank, Mercy Tembon participated in the EuroDIG 2018 – European Dialogue on Internet Governance. She offered a positive evaluation on hosting such high-level internet forums in Georgia and noted that the EuroDIG 2018 discusses the issues relevant to the World Bank Group's work in Georgia. "We recently released our Country Partnership Framework for 2018-2022, and we recognize the importance of improving access to the internet for all. This will help Georgia maintain growth and boost productivity in an inclusive and sustainable way, it will support investments," – the WB Regional Director noted.
Mercy Tembon suggested that the EuroDIG will facilitate Georgia to think about the ways of accelerating economic development. She also noted that the World Bank, in cooperation with the Government, private sector and the civil society, is supporting the expansion of broadband internet in the country.
Electronic governance is a modern form of communication between the government and society.The main principle of Internet governance is more transparency, and accountability, which contributes to strengthening democratic governance in the country.
Since 2011, one of the state priorities of Georgia has been to facilitate transparency in via implementation of e-governance. The country has been participating in the international program "Open Governance Partnership" (OGP) since 2012.
One of the latest portals created in the framework of OGP, was a civic engagement tool: "Ichange.gov.ge", enabling citizens to take part in decision-making processes through electronic petitions. Despite the fact that this portal has been operating for several months already, only a few customers visit the page, which indicates to the society's low awareness about governmental electronic portals.
Holding such large-scale international project regarding e-governance indicates that the international community supports the state policy in this direction and encourages the country to effectively implement similar initiatives.