Anaklia Deep Sea Port: Changing the Realm of the Country
By Nino Gugunishvili
Monday, June 11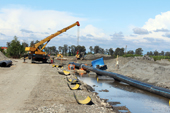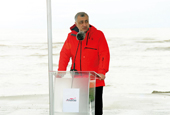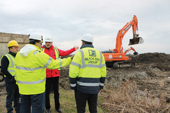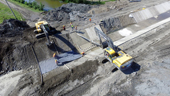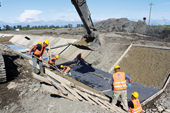 Interview with Mamuka Khazaradze, Anaklia Development Consortium Co-Founder
One of the most ambitious projects in the history of Georgia, The Anaklia Deep Sea Port land construction officially started in December 2017. Mamuka Khazaradze, Anaklia Development Consortium Co-Founder talks about the impact of the entire Anaklia project, how it repositions Georgia both regionally and internationally and the long term outcome the Anaklia development is expected to bring to the country.
The Anaklia Deep Sea Port construction has already been launched, and the "realm" of Anaklia has changed… summing up the project so far, have you achieved what you've originally planned? What are the efforts undertaken in its realization?
The assessment is more appropriate once the first phase of construction is over. We're planning to complete the first construction phase in 2020 and that's when we'll have to evaluate how the immense energy we've put into the project came to its logical point, how our goals and what we initially planned is accomplished. Overall, I would compare the idea of Anaklia Deep Sea Port construction, which is extremely important for the country, to a heart surgery, when an artery is blocked and an arterial shunting is performed. That's quite similar to what our country is undergoing right now in terms of Anaklia Deep Sea Port construction process, when the country's transport corridor becomes competitive and complies with the world's standards. This is not just about the port; it's a creation of a massive knot, a junction, and a declaration that we're a middle point, a link between Europe and Asia, and it's not just a historic reality anymore. It's a significant announcement, that you're offering a world standard infrastructure to the international business.
I think that the Anaklia project may even be a bit belated for Georgia, but considering the events going on in the world and around us, especially with the redistribution of the routes; we're now exactly where we have to be.
Can we say that Georgia has already declared that the country is playing an active role in the world redistribution process?
Definitely, and it's not just the port. It's important to highlight numerous complex and successful reforms the country has undertaken for the last 10-15 years in the spheres of business and economy alone. The development of our country, that's the major declaration. You can be building a port, but the country has to be democratically developed and there has to be a possibility for business development, with no corruption or racket, etc… which luckily we've left in the past. The port is one of the essential components, but the country has formed a platform of success, where it's possible to run international business. This creates a huge critical mass, enabling us to invite conglomerates. That's why we've developed the idea of Anaklia City. When you tell multinational companies and individuals that you are the shortest route between the East and the West, you have to offer them a possibility to bring office infrastructure, production and human resource over. They should wish to open their permanent representation offices here, where the shipments from Europe to Asia will be transported. Anaklia, therefore, has to become not only a transport hub, but also a hub for international companies in the region. As soon as the international offices occur, the financial support comes next. Georgia is a unique country regionally, as two of the Georgian banks are on London Stock Exchange and both of them are in FTSE 50, which means that the Georgian banking system is highly trusted and the investors worldwide are our shareholders. We do have enough resources to become financial center for the region. Bringing financial resources from the neighbouring countries to Georgia is a long – term development perspective of the country. Call it "Switzerland of the Caucasus" or anything else, there is an existing base for that, and there are active players in Georgia who could handle that task. For me, the Anaklia Project encompasses several components; the port, financial project, recreation and environment and production. We're reducing the process of affecting the environment in accordance with the highest international standards and there will be no compromise in that. We can show to the outside world that it's possible to make a modern infrastructural project and preserve Nature. There will be no chemical or heavy industry with a negative impact on environment in Anaklia; I would like to also underline the logistics hub and a financial center, where the entreprises will be moved to automatically, and we have numerous proposals regarding it.
The outstanding chance Georgia has with the free trade agreement with China, preferential trade agreement with US, free trade agreement with CIS countries brings us a possibility of attracting non-EU countries with their production to Anaklia, creating their products under the Georgian flag, under "Made in Georgia".
All of this vision will develop fast, as soon as the port starts to operate. Meanwhile, in a one year time, the full documentation of Anaklia City development with its each and every phase is to be ready, as the city won't be constructed in several years, and nevertheless, we will define very strict priorities from where the actual construction process will start. All of it needs a base, a legal system, on which we're working now. As a base we'll take the world's most successful commercial legislation and international arbitration examples, which will enable us to once again become not only a financial center, but also a place where finding justice in commercial disputes will be guaranteed. There's no such practice in our region so far. We should be aiming at creating a legislative space with which the whole world will understand that the agreements signed under the Anaklia legislation, will be equal to London or Paris arbitration. This will give us an opportunity to talk to huge international business companies.
Anaklia City is planned to have a smart, green city concept, while at the same time it'll be a Georgian project… how do you think the existing Western, or even Asian smart city experiences would be interlinked in Anaklia City?
It's an interesting question… Tbilisi is a good example of that, the way it formed and developed through the centuries. I wouldn't say that Tbilisi is purely Asian or purely European, Tbilisi is not an example of assimilation; we've brought the best from the foreign, but we transformed it into Georgian. The city of Anaklia must not be a city without a character and the best guarantee to that in my opinion are art, culture and religion. The priority must be our culture, our language and the employment of Georgian citizens, which I would emphasize, as an "obligatory." We have to be hosts in Anaklia city, inviting a young, intellectual force to live and work there.
We have to create a platform which will attract individuals from big cities to move to Anaklia, where they will have high salaries, lots of business possibilities; a chance for these people to be involved in the country development at this very important place. Higher education institutions and the best schools that are already in Tbilisi will have a chance to expand and be a part of an international scene. In regards to education and culture, the demand will be the same as in Singapore, Geneva, New York or London. Ecology will be a top priority in Anaklia City, next to the quality and modern innovative technologies; our priority is to create an ecological environment, which you won't find anywhere else and international companies will be interested to participate in this novelty. It is crucial to invite individuals and companies who're working on innovative and information technology projects. I know for sure, that with our team and together with international consultants we'll make it, this is not a matter of 1 or 5 years time, but if we create the right ground, we'll achieve the goal.
Besides the Anaklia Deep Sea Port you're also involved in other initiatives launched in parallel to the Anaklia port project in Samegrelo region, be it the development of Hippodrome, or cultivating grape varieties from Samegrelo …
Firstly, we have to show to others, that it's possible. For the last 25 years, as it turned out there were almost no spheres and sectors in which me and my team didn't prove successful, so why not apply and develop those successful models alongside constructing the port? Why shouldn't we promote the fact that there are 60 unique grape varieties in Samegrelo? No one knows which of them will make a good wine, it's hard, but someone has to start. We're ready to step on that difficult route and make that experiment happen. We also want to pay great attention to the local cultural heritage, for which a separate fund will be established. We've already started one of the projects together with the Museum of Art and the Department of Monuments Protection.
We should pay closer attention to the uniqueness of Samegrelo with its Nature and traditions, its outstanding cuisine that needs a different way of presenting. I suppose, the construction of Anaklia Deep Sea Port is similar to an icebreaker ship in a way, and there have to be "smaller ships" around it, smaller projects with which we should all move in one direction.
I think that re-establishing relations and strengthening families living in Samegrelo has a lot of potential. Creating stable employment opportunities is one of the most crucial things to do, for which there's no platform yet and it's difficult to create it. There are 50 people employed in the port construction process and this is just the beginning. Now, 100 people are working at the construction site, and this number will grow consequently, as the direction of work is expanding. There will be more engineering solutions involved and the scale of the construction is to become larger. Apart from Enguri HPP, The Anaklia Deep Sea Port construction is one of the largest in the history of Georgia. Our goal is to make the people living there feel the benefit of it.
Does the international response and interest towards the Anaklia Deep Sea Port Project mean that Georgia becomes an important player on international scene?
The sole fact that we're now in the construction process, the fact that all the key players of the One Belt, One Road initiative are connected to us, and we have agreements signed with many of them already, speaks to that.
Some two weeks ago Anaklia appeared on international cargo maps in China, marked with a star, which means the construction is in progress. Georgia has never been on those maps before. We can also say that we have approval from three of the largest American, European and Asian Banks on the project financing, meaning that from the Banks part, the question concerning the necessity of Anaklia Deep Sea Port construction, or whether the project is worth expectations, practically doesn't exist anymore.
The international companies became highly active from the moment we've launched the construction process. The meetings are planned for a year ahead and it's not about the port alone; we're working on a detailed design plan and transportation, we're working on Anaklia city planning. We're now communicating with several big companies. Now we really feel that we're a part of the process. Before that, it was rather a stage where we had to prove that the project was necessary and that we could handle it. We've passed that stage. Now we have to go through a stage where we have to finalize what we've started and to receive the first ship. There are technical difficulties, since we're practically working in a bog, but modern technologies can solve those problems too.
Anaklia Deep Sea Port construction idea dates back to the 60s, and it's been a long anticipated project. From one hand, as I mentioned earlier, it may be a little belated, but on the other, it's good that the construction started now, in accordance with international standards and not in a rush, as it may have been done. The project is carried out following the BOT principle; in 50 years time, the project will be owned by the state. It's a rightful and important decision. The strategic projects like this one should be in state ownership.
We're building a port with 100 million strength capacity, which won't need any re-equipment for a minimum of 100 years. Today the investment goes to the first phase, 30% of which will serve all the 9 phases, and 70% will serve its 5 phases. This is a massive announcement. Any players should see that for the next 25-50 years they have a perspective and a possibility to develop their businesses.