Pankisi Gorge Locals Launch Protests against Construction of HPPs
By Tea Mariamidze
Monday, July 23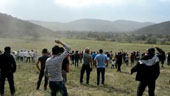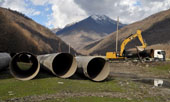 Locals of Pankisi Gorge, located in the Akhmeta municipality of the Kakheti region, Georgia, held a protest rally against the construction of Hydro Power Plants (HPPs), including Khadori 3 HPP works in village Birkiani.
According to the organizers of the rally, in recent weeks police have summoned people who oppose HPP construction.
One of the locals told radio WAY that the police warned them not to hinder the construction process; otherwise, they will face serious problems.
"We do not want the HPPs here. We elected the government and they should take into account what locals want," the protesters stated.
The radio WAY reports that Deputy Interior Minister, Kakha Sabanadze, along with Kakheti governor and Deputy Minister of Economy, met with the protesters. They promised the people that around 100 locals will be employed at the construction and that after the HPP is completed in December 2019, 40 people will be employed there.
However, residents of Pankisi are going to continue protest rallies, in case the construction works are resumed.
Lasha Iordanishvili, the head of Alazani Energy Company, which carries out construction works, told Radio Way that the company has made an agreement with the state to build a power plant and in case they do not fulfill their duties, the state will face many problems.
"We have mutual responsibility with the state. The permit has been issued, the finances have been allocated and the electricity generated by the hydroelectric power plant is already included in the balance sheet of the next year. I am trying to explain to the population that HPP will not bring any damage to them," Sabanadze stated, adding, "Some evil-minded people want to mislead locals."
Khadori 3 construction works were launched several days ago. The water supply to the HPP will be made from the Khadori 2, which means that the river Alazani will be piped in about 4.5 km channel to the village Birkiani.
The locals say if the channel is made there will won't be enough water left in the riverbed. They also fear that HPP works will damage environment and worsen their health.